Testing Requirements in the Boiler House
The following test routines are required by the UK HSE (Health and Safety Executive) for a manned boiler house.
External chambers (float or probe type controls)
Daily:
Blow through of the chambers is required, using the sequencing purge valves to remove any accumulated sludge.
Separately, the first and second low alarms are tested.
Weekly:
Lower the actual boiler water level to the 1st low (by evaporation), and then blow down to the 2nd low.
The main reason for this weekly test is to ensure that the alarm is given, and at the correct level, when the level drops slowly in the boiler (because floats could stick).
2. A high alarm is usually tested weekly.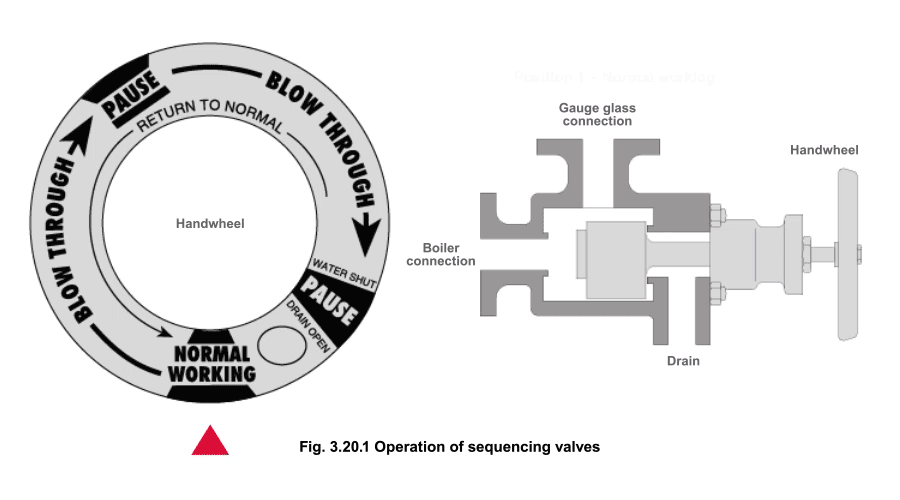 Direct mounted level controls with internal protection tubes
A daily test is still required, but this means dropping the actual level, unless test facilities are incorporated. The time involved and the loss of heat, water and treatment chemicals means that this is only really practical in smaller boilers.

The UK regulations for supervision state that, for 'standard' (for example, non-self-monitoring, high integrity) controls there must be a trained boiler attendant on site at all times that the boiler is operating.

Testing requirements in the unmanned boiler house
In many countries and in all types of industries, there is a need or desire to run steam boiler plant unattended. This has led to the development of special, high integrity 'self-monitoring' level alarms, and controls for increased safety in the event of low water conditions.

For externally mounted float controls, automatic sequencing valves are required, plus a control system which will then carry out automatic sequenced blowdown of the external chambers and electrical testing of the externally mounted boiler level controls (Figure 3.20.2).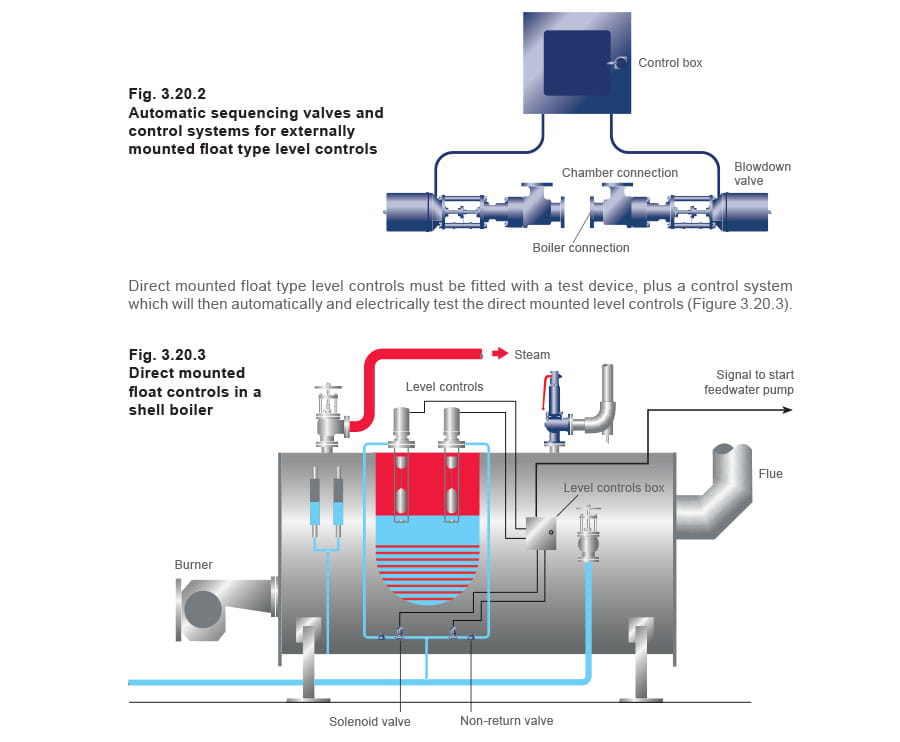 Automatic test system for direct mounted float type level controls
With probe type, high integrity, self-monitoring level controls, the 'self-checking' facility is carried out via the probe and its associated controller, so a further, special control system is not required. The latest conductivity systems which incorporate a high integrity self-monitoring feature, will check for faults continuously, and electronically.

Faults can include the build-up of scale or dirt on the probe and also any moisture leakage into the probe. If such a fault is detected, the control system will initiate an alarm and cause the boiler to safely shut down.

The main user advantage of these special low water level alarms is not only increased safety but also that daily testing is not necessary. This means that there is little point in fitting high integrity probe controls in external chambers, where it would still be necessary to blow through the chambers, on a daily basis, to remove any sludge.

Probe type, high integrity, self-monitoring low water level alarms are therefore fitted in internal protection tubes.

The manual weekly test must still be carried out under UK regulations. In Germany, where approved probe-type high integrity self-monitoring low water alarms are fitted, the interval between manual tests is 6 months.

Under the UK regulations, if high integrity self-monitoring systems are fitted, supervision requirements are reduced to the need to have someone available to respond to any alarm and call for further assistance. An adequately trained security guard or porter could be considered suitable.